Tommy Beaudreau, Biden's choice for deputy interior secretary, may very well need to do the same.
In a recent financial disclosure report, Beaudreau reported working for 35 clients over the last four years as an attorney and partner at the Los Angeles-based law firm Latham & Watkins. They include numerous companies with potential business before the Interior Department, from fossil fuel drilling and pipeline firms to offshore wind developers. 
Beaudreau's list dwarfs the 17 clients Bernhardt named in his 2017 financial disclosure. Beaudreau also earned twice as much over the last year than Bernhardt did in the year before joining Trump's Interior Department. He brought in $2.4 million from Jan. 1, 2020, to March 17, 2021, compared with Bernhardt's $1.1 million in 2016.
"To me, it's pretty disqualifying," said Brett Hartl, government affairs director at the Center for Biological Diversity. "This is a massive amount of conflict, and frankly he has biases that I think are going to be difficult to reconcile."
The White House did not respond to HuffPost's request for comment. The Interior Department declined to comment.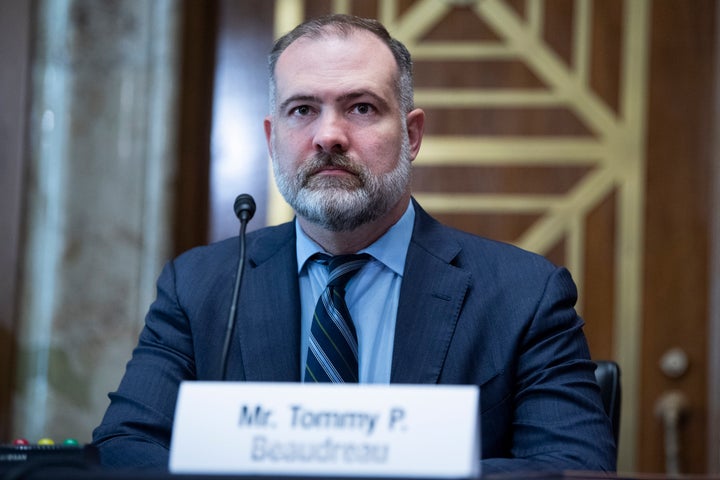 Beaudreau, an Interior Department official in the Obama administration, became Biden's nominee for the deputy post after the White House backed away from its initial choice, Elizabeth Klein. 
Klein, another former Obama administration official, drew opposition from Sens. Joe Manchin (D-W.Va.) and Lisa Murkowski (R-Alaska), who were concerned about her views on fossil fuels, The Washington Post reported. As deputy director of the New York University School of Law's State Energy & Environmental Impact Center, Klein was involved in numerous lawsuits that state attorneys general brought against Trump's environmental rules and rollbacks.
Under President Barack Obama, Beaudreau served as the first director of the Bureau of Ocean Energy Management and later chief of staff to then-Interior Secretary Sally Jewell. At the end of Obama's second term, Beaudreau spun through Washington's revolving door and developed numerous ties to industry. 


Go to the news source: Biden's Pick For No. 2 At Interior Has Numerous Ties To Fossil Fuels