Good morning, and welcome to our rolling coverage of the world economy, the financial markets, the eurozone and business.
The pound has hit a new three-year high against the US dollar, amid optimism about the UK's economic prospects as the country prepares to start reopening from the pandemic lockdown.
Sterling hit $1.42 this morning, for the first time since April 2018, as traders continue to drive the pound up on the foreign exchanges.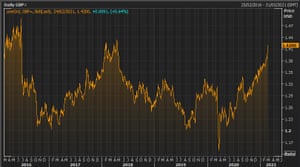 The pound also rallied against the euro overnight, hitting €1.17 for the first time in a year.
With Covid-19 cases continuing to fall, and Britain's vaccine programme outpacing Europe, there is optimism that the UK could have relatively strong 2021.