Here is what you need to know on Tuesday, February 23:
Update after the first hour of trading: It is all starting to look very red again as the dominant themes play out. Investors looking for a reason to take profits from the huge rally in stocks have found inflation meets the criteria and so nervousness and fear of the dreaded inflation dominate. This despite yields being negative across most of the world and a pick up actually signalling an economic rebound. But the rally can't last forever so some correcting needed to be done! 
So far in the first hour, the Nasdaq is the main faller down 1.5% with S&P and Dow both down around 0.5%. Energy, Financial and Real Estate stocks are holding up while Tech names fall. DoorDash, Bank of Nova Scotia, Total, Conoco Phillips and Medtronic were notable gainers. Moderna, Spotify, Shopify, SNAP, Roku, Tesla, NIO, CCIV, NVIDIA, GM and Home Depot were noted losers.
Tech stocks continue to suffer as the shift into consumer cyclical continues. The big tech names all suffered with Tesla down over 8%, Apple and Microsoft down approx. 3% and Amazon and Google signing for a near 2% loss. Inflation concerns continue to weigh on investor's minds as Federal Reserve Chair Jerome Powel heads for testimony in Congress later on Tuesday.
Bitcoin is back below $50,000 on Tuesday morning, Oil is slightly higher with WTI trading at $61.88, and the US 10 Year yield remains flat at 1.37%. 
The dollar is holding steady with the Dollar Index slightly higher at 90.20, EuroDollar at 1.2150, and Cable at 1.4076.
European markets took their lead from falls in US indices overnight and all opened lower as tech and inflation concerns linger. The Dax was down 1%, FTSE down 0.12% and EuroStoxx down 0.6%.
US Futures are again pointing lower on Tuesday with tech once again pressured. The Nasdaq future is down by 1.8%, S&P down 0.6%, and Dow futures down 0.1%.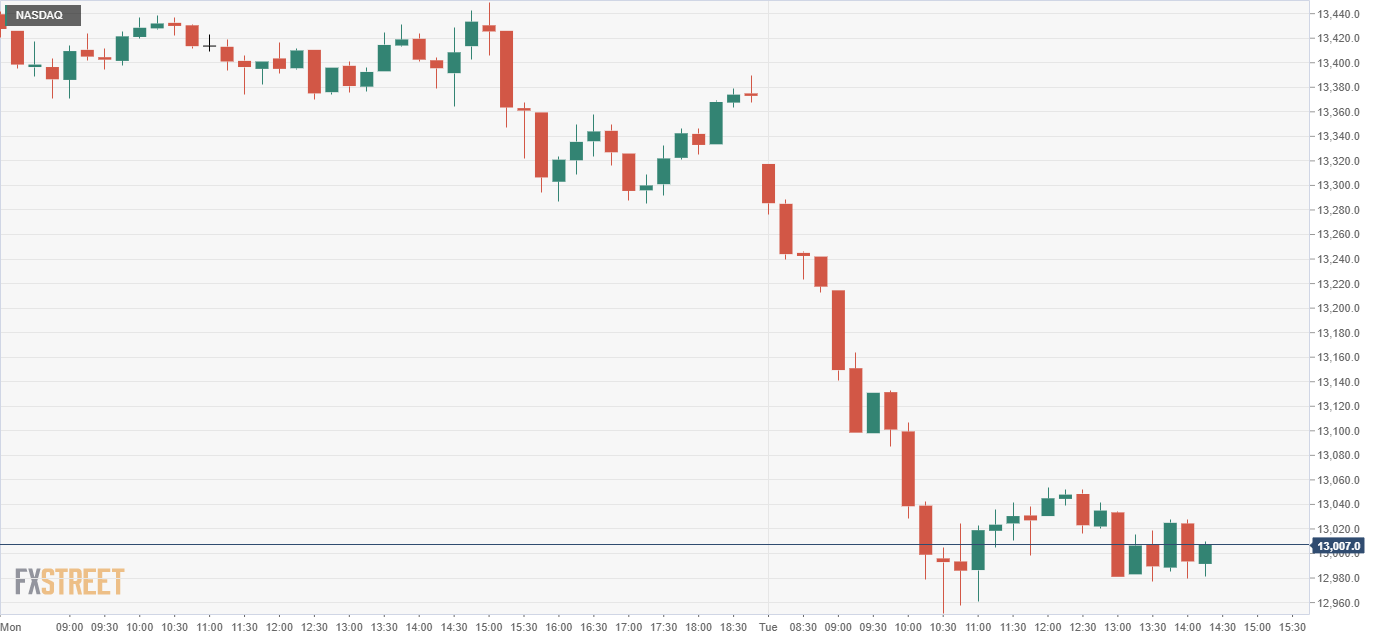 Nasdaq
S&P 500 News
Federal Reserve Chair Jerome Powel speaks in Washington at 1500 GMT, 1000 EST.
Bank of America joins the oil bulls and increases its forecast to a $60 average for 2021.
European travel stocks were all sharply higher on the back of the UK's roadmap to re-opening its economy. 
Home Depot and Macy's shares both reported strong earnings numbers with Macy's shares rising in pre-market. Home Depot suffered as the CFO was unsure how long the pandemic would last and what impact that would have on consumer spending.
Facebook is back in Australia as it is to restore Australian news pages.
CCIV and Lucid merger is finally on as the deal is confirmed.
AMC shares are higher in Tuesday's pre-market on news that New York is to partially open movie theaters with limited capacity in March.
Intercontinental Hotels Group posted a $153 million operating loss for 2020 but a positive outlook and UK reopening pushed shares higher. 
Vaccine news: Pfizer said it expects to deliver at least 13 million doses of…


Go to the news source: Day Ahead Outlook Tech suffers as Oil and consumer stocks rally