Last year, Albert Bourla had a choice and he decided to take a massive risk. The CEO of the pharmaceutical giant Pfizer could have made it easy for himself by accepting billions of dollars and participating in Operation Warp Speed, the US government's initiative to create multiple vaccines as fast as possible. But he preferred to remain independent.
Bourla decided to invest $2 billion (€1.6 billion) in BioNTech, a startup company in western Germany. His instinct was right: BioNTech came up with the formula for the first COVID-19 vaccine to be approved by the United States, EU and other governments. By the end of the year, Pfizer had produced 50 million doses of BioNTech's COVID-19 mRNA vaccine, BNT162b2. The goal for 2021 is to produce more than a billion doses.
For many, Bourla and BioNTech founders Özlem Türeci and Ugur Sahin are heroes in the global fight against COVID-19. The companies had previously collaborated on a flu vaccine in 2018, and their latest endeavor could save the lives of incalculable numbers of people.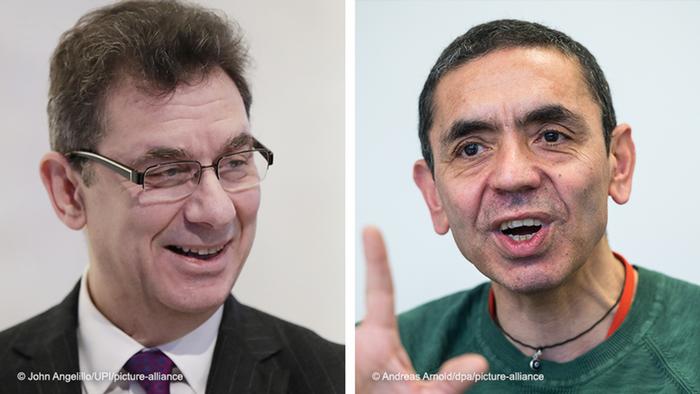 Bourla (left) and Sahin are seen as heroes in the fight against the pandemic
Viagra and more
Pfizer got its start in 1849, when Charles Pfizer and his cousin Charles F. Erhart, both of German descent, founded Pfizer & Co. in New York and started producing an antiparasitic drug called santonin. Today, Pfizer has more than 100,000 employees, and one of its bestsellers is the erectile dysfunction drug Viagra.
New challenges arose in 2020 for the pharma sector, which generated global sales of about $1.1 trillion in 2019. The rapid development of multiple COVID-19 vaccines showed what the industry could do under enormous pressure. However, the real test might only be beginning for a sector that has often been accused of being more interested in maximizing profits than in saving lives.
'Pfizer exercised pressure'
A few weeks ago, only the mass-circulation press was using the expression "vaccine debacle" in Germany. But now it's being employed widely, by politicians and much of the population. The gist: while countries such as Israel, the UK and the United States are vaccinating populations in large numbers, the EU — represented by an incompetent negotiating team — failed to order enough doses in time. On top of that, the narrative goes, the EU was also too tightfisted.
Peter Liese, a member of the European Parliament for the Christian Democrats and a medical doctor, has regularly appeared on German TV talk shows to counter that argument. 
"Pfizer exercised pressure on the European Commission," Liese told journalists in August. "Pfizer apparently did not initially want to accept something that is the law in Europe — namely that, when a mistake is made and somebody is hurt, there has to be liability."
The negotiations dragged on and finally concluded in November. For weeks, more than 20 lawyers for the US giant sat across the table while the European Commission's negotiators kept a low profile…


Go to the news source: Coronavirus vaccine: Did Pfizer put profit first? | World| Breaking news and per…