Dawn Goodwin spent her 50th birthday among towering pines and yellow birches whose tree rings make her lifespan seem like a child's in comparison. But on that cool, overcast Saturday in December, the growling of construction trucks and chainsaws drowned out the natural soundscape of gushing freshwater and wind whispering between pine needles on the banks of the Mississippi River. 
Goodwin was at this river crossing near Palisade, Minnesota, to protest the construction of the energy company Enbridge's Line 3 pipeline, a $9.3 billion project to carry tar-sands oil ― one of the dirtiest varieties of crude oil ― from Joliette, North Dakota, to a terminal facility in Clearbrook, Minnesota. From there, it's distributed to refineries. Goodwin winced as workers felled a mighty spruce while clearing a 50-foot berth for the pipeline, its sappy rings laid bare as its crown thudded to the ground.
"At that moment, the tree just spoke to me, saying, 'I'm being disrespected. I am medicine. And they're just cutting me and throwing me aside with no care,'" said Goodwin, who lives on the White Earth Reservation and goes by the Ojibwe name Gaagigeyaashiik. "I just felt like I needed to go and pick it up, so I walked over." 
Without realizing it, she'd stepped over an invisible border and had officially trespassed into a construction site. Within seconds, half a dozen police officers surrounded her, carrying zip ties to arrest her. Video footage of the incident shows her ― bundled in an oversize green hoodie, a black winter jacket and matching mittens ― apologizing repeatedly as fellow activists chant, "Let her go." It proved enough to talk the officers down to a misdemeanor citation. She's due in court next week.
Under a new bill in the Minnesota legislature, Goodwin could face much steeper consequences. Had any of her fellow activists caused even minor damage to equipment at the site, the bill could've held virtually anyone even remotely involved — especially those caught trespassing — liable for the damage, threatening protesters with up to 10 years in prison and $20,000 in fines. 
An activist wouldn't even need to be convicted of trespassing to be held liable ― an arrest is enough under the legislation.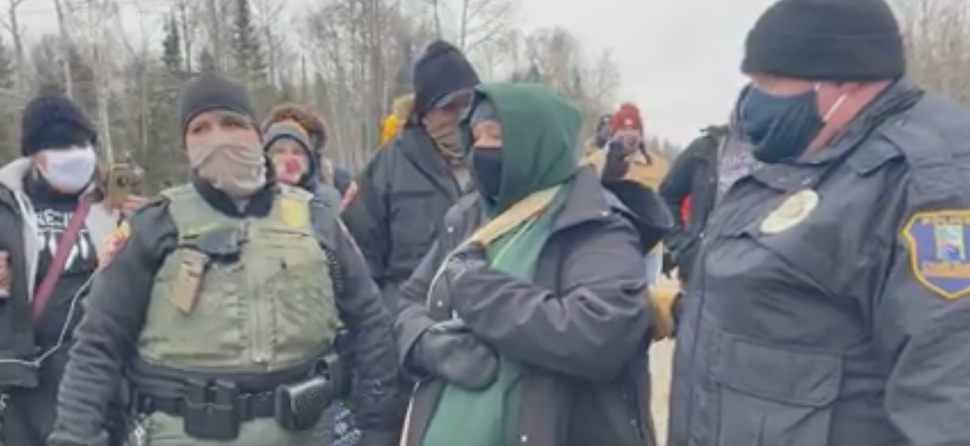 "It is extremely draconian," said Teresa Nelson, the legal director at the American Civil Liberties Union of Minnesota. "We don't impose those kinds of punishments on people in any other part of our statutory code." 


Go to the news source: 4 More States Propose Harsh New Penalties For Protesting Fossil Fuels