It's an active day on Wall Street with traders taking a "risk-off" stance ahead of the Friday session. Thus far, safe-havens have performed well with GOLD (+0.20%), the USD/JPY (-0.20%), and USD/CHF (-0.27%) all gaining ground on the Greenback. For the USD/CHF, the weakness comes after an early-week rejection of a key Fibonacci support level. 
Once again, it's Thursday and that means the U.S. jobless claims are out. Here's a look at this week's figures:
Event                                                     Actual                    Projected              Previous
Continuing Jobless Claims                 4.494M                   4.413M                    4.558M
Initial Jobless Claims                            861K                         765K                         848K
This batch of numbers has come in above the previous release and projections. All in all, not a good sign as we roll deeper into Q1. However, Building Permits (Jan.) stood at 1.881M, well above industry projections of 1.678M. Although it is still early in 2021, the recent trend of rising mortgage rates doesn't seem to be scaring home builders.
Today's action has been fairly simple to read: risk assets are down and safe-havens are up. For the USD/CHF, rates are holding above an important Fibonacci support level.
USD/CHF Rejects Weekly Fibonacci Support
In a Live Market Update from last week, I issued a buy recommendation for the USD/CHF. The trade was a break-away winner, easily hitting the 30 pip profit target. If you got in on the action, well done!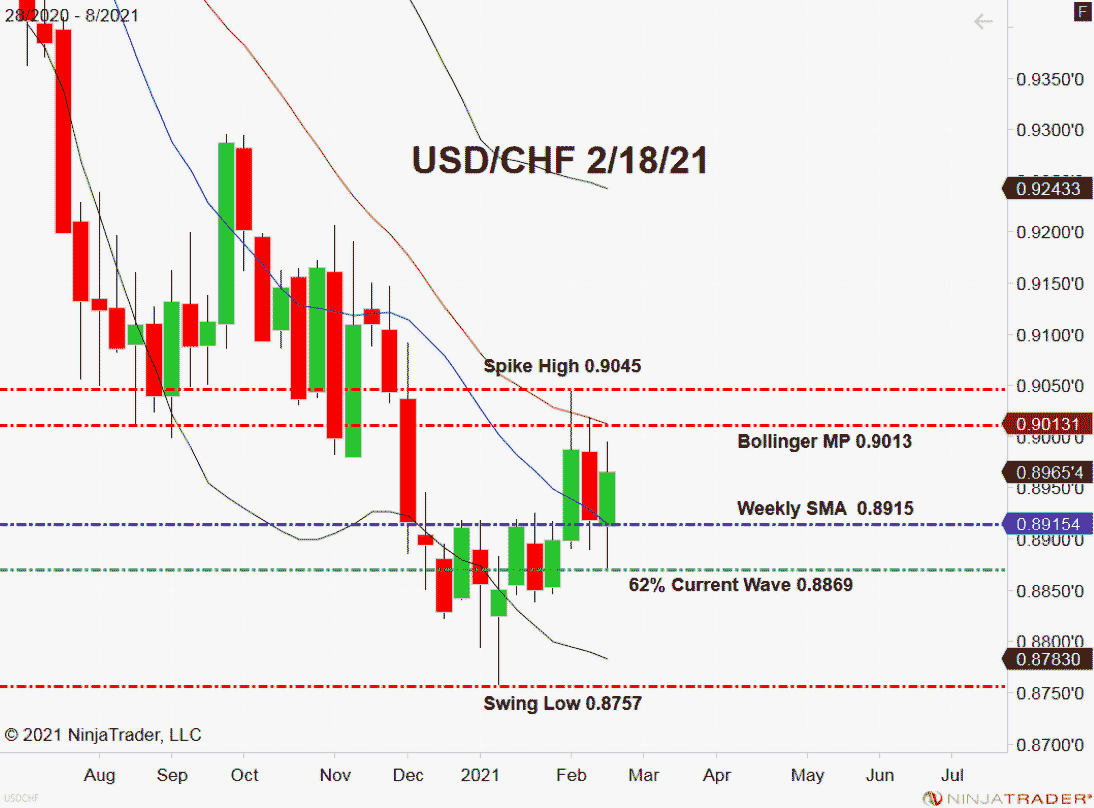 Overview: Much like the EUR/USD, the USD/CHF is within a three-week consolidation phase. The sideways action can't last forever; be ready for a directional move in this market by early March.
Currently, a macro bearish bias is appropriate for the Swissy. Although rates are firmly above the 62% weekly Fibonacci support level (0.8869), the long-term downtrend is intact. Barring a surprise policy shift at the March Fed meeting, this market is still positioned to test the weekly Swing Low (0.8757).




Go to the news source: USD/CHF Rejects Weekly 62% Fibonacci Support