GME shares are currently at $116, down nearly 50%.
Gamestop short interest has collapsed according to S3 partners.
AMC, BBBY, BB, KOSS and all related retail short interest stocks fall.
Update February 2: Shares in Gamestop (GME) collapsed again on Tuesday as the retail-fueled frenzy in heavily shorted stocks appeared to be coming to an end. Gamestop (GME) shares are down nearly 50% at the time of writing. S3 partners reported that the short interest in GME had fallen sharply and the cost of borrowing the stock had also fallen.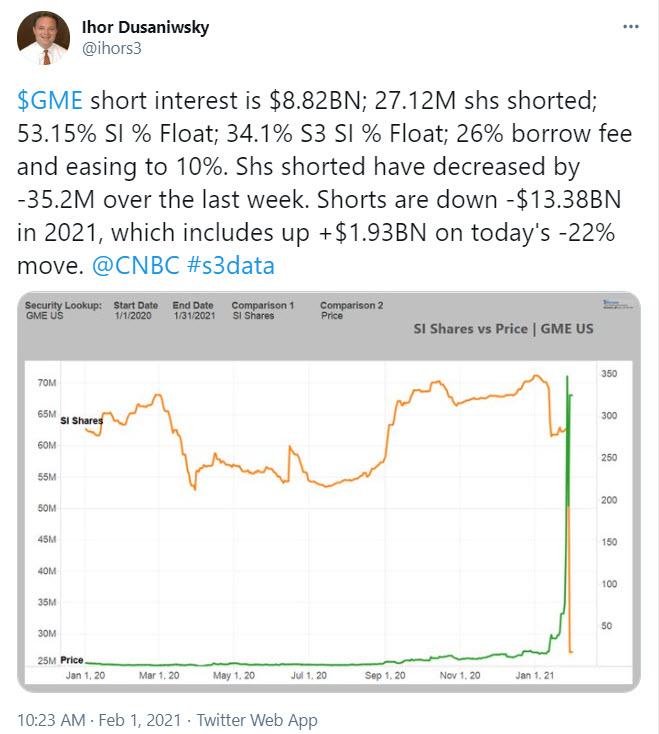 Update: GameStop Corp.(NYSE: GME) shares are changing hands at around $171 in Tuesday's premarket trading, down another 24% after crashing by 31% to $225 on Monday. The rush to the exits from the No. 1 "meme stock" continues at full force. Retail traders organizing on Reddit's Wall Street Bets are eyeing a short-squeeze on silver. XAG/USD hit an eight-year high above $30 on Monday. It is also essential to note that short positions on GameStop have substantially dropped. Moreover, some suspect that while some hedge funds were positioned against GME, others took advantage of the WSB amassing to jump on the squeeze bandwagon. 
Best Stocks to Buy Forecast 2021: Vaccines and zero rates to broaden recovery
Update: Gamestop shares continue the volatile ride in Monday's pre-trade. GME shares were initially strong early during Monday's pre-trading session in the US but reversed and are currently showing a loss of 2% at $316. Retail traders continue to show strong interest but the high price appears to be deterring many newbie traders who are instead buying the more moderately-priced AMC.
AMC shares are up 17% in Monday's pre-market session at $15.68. Robinhood and many other retail platforms have stopped fractional purchases of Gamestop (GME) shares.
Update: Gamestop (GME) shares rebounded strongly in Friday's pre-market trading as Robinhood said they would allow limited buys of certain securities that had previously been restricted. Robinhood has faced a furious backlash from users, politicians and celebrities for its decision to suspend new purchases of Gamestop (GME) and certain other stocks that had been the subject of retail-driven short squeezes. 
Robinhood was hit with a class-action lawsuit in Manhattan and Chicago federal courts. The brokerage company released a statement on Thursday saying "As a brokerage firm, we have many financial requirements, including SEC net capital obligations and clearinghouse deposits. Some of these requirements fluctuate based on volatility in the markets and can be substantial in the current environment. To be clear, this was a risk-management decision, and was not made on the direction of the market makers we route to."
Gamestop (GME) shares are currently trading at $416 during Friday's pre-market session, a rise of over 100%. 
 See more: Brokers' restrictions on GME and AMC set a dangerous precedent – FXStreet…


Go to the news source: GME collapses as short interest drops