A year since the first coronavirus case was reported in the US, millions of Americans have found themselves out of work for nearly all that time as the pandemic triggered an economic crisis on a scale unseen since the Depression of the 1930s.
Florida has been hit harder by the pandemic than nearly any other state and the crisis has wreaked havoc on countless lives, families and communities from the Florida Keys to the Panhandle – and everywhere in between.
The state experienced the second most unemployment claims in the US since the start of the pandemic, with an unemployment increase of 1,683% compared with January last year, according to data compiled by WalletHub.
Florida has recorded over 1.6m cases and more than 25,000 deaths since the start of the pandemic, the third highest case count among states in the US and fourth in total deaths, although its population, at nearly 22m, is the third largest.
Workers who have lost their jobs have been forced to rely on a broken state unemployment system that has experienced long delays, backlogs, system crashes and small payments as the state's maximum payout of $275 covers only a portion of the lost income for thousands of workers in the state.
Through 2020, Florida was the second worst state in the US at paying unemployment benefits on time. Internal audits had uncovered various issues with the state's unemployment system for years before the pandemic hit, and elected officials are still conducting reviews on how to fix the state's ongoing unemployment failures.
The Guardian spoke to workers in Florida who have struggled to survive while relying on the state's broken unemployment system.
Here are some of their stories.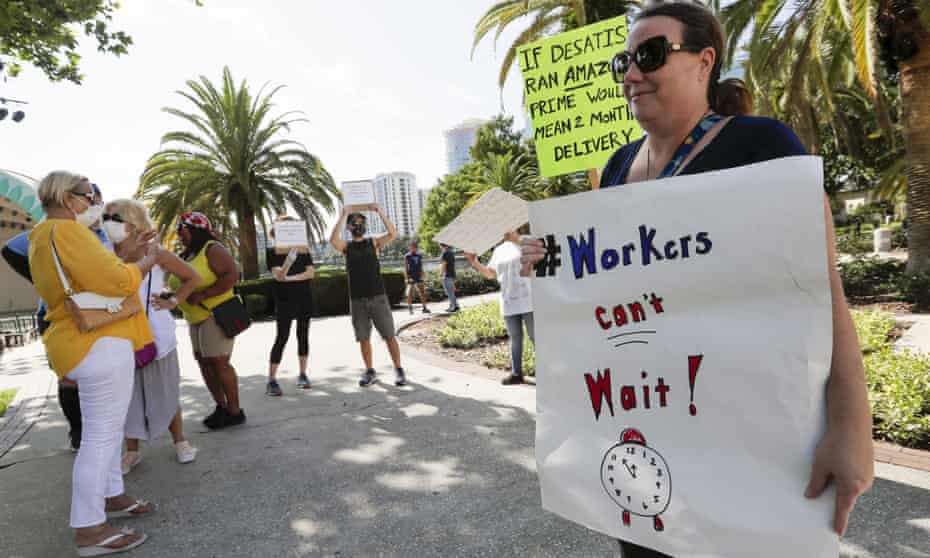 Ann Largent
Former hotel employee at Disney World in Orlando for two years
Right before coronavirus shut down Orlando's tourism industry, Largent was separated from her job of two years at a Walt Disney World hotel, where she worked late-night shifts conducting maintenance and housekeeping duties.
Orlando, one of the most visited tourist destinations in the US before the pandemic, has taken among the hardest hits in job losses as its theme parks, Disney World, SeaWorld, Universal Studios and others have permanently laid off thousands of workers.
The surrounding area has maintained the highest unemployment rates in the state, with an estimated 125,000 jobs lost over 2020.
Largent was one of thousands of Floridians who experienced long delays in receiving unemployment benefits through the state. During that time, Largent and her daughter had to leave the house they rented because they could no longer afford it. They moved into a mobile trailer park where they currently reside because rent is too high anywhere elsenearby.
"During that time frame, I lost everything," said Largent. "Covid-19 has destroyed my…


Go to the news source: 'I lost everything': laid-off workers battle Florida's chaotic benefit system | …