For now, the story is that it's just temporary.
For now, the story is that the sudden and massive shifts in the economy in 2020 have caused shortages and distortions in the goods-producing sectors and in shipping and trucking, as consumer spending has shifted from services – such as flying somewhere for vacation and spending oodles of money on lodging and restaurants and theme parks – to goods, particularly durable goods.
The story is that prices are rising because components and commodities are in short supply, and supply chains are dogged by production issues, and are facing transportation constraints, as demand for those goods has suddenly surged. And that all this is temporary.
And the Fed has said it will ignore inflation for a while, that it will allow it to overshoot, and only when it overshoots persistently for some unknown amount of time and becomes "unwelcome" inflation – "unwelcome" for the Fed – that it will try to tamp down on it.
Meanwhile, inflation pressures are building up. Two reports out today show a large-scale surge in price pressures for manufacturers – and they're able to pass them on to their customers.
The Prices Index "surged dramatically in January" to a level of 82.1%, after an eight-month upward trajectory, the highest since April 2011, "indicating continued supplier pricing power," said the Manufacturing ISM Report On Business.
In the ISM data, a value above 50 means expansion, and a value below 50 means contraction. The higher the value is above 50, the faster the expansion. January saw the fastest expansion of the Prices Index since April 2011 (data via YCharts):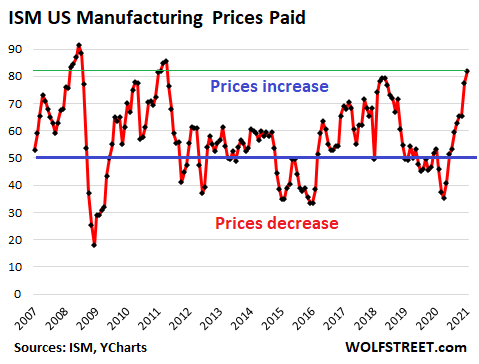 Of the roughly four dozen commodities in the index – from corrugated boxes via cold rolled steel and plastic resins to memory chips – only one showed a price decline (caustic soda); all others increased. Some of the prices started increasing more recently, but others have been increasing for eight months, including copper.
A number of commodities were considered in "short supply," including:
Copper
Corrugated Boxes (for 3 months)
Electrical Components (for 4 months)
Electronic Components (for 2 months)
Freight, trucking
Semiconductors (for 2 months);
Steel (for 2 months), cold rolled; fabricated; and hot rolled.
The ISM data is based on how executives see business conditions at their own companies. The names of the companies are not disclosed in the report. Executives are asked if various business conditions – orders, prices, employment, etc. – are up or down in the current compared to the prior month.
Concerning prices, 64.3% of the executives said that prices rose in January compared to December, while 35.7% said that prices remained the same, and 0% said that prices declined.
For manufacturers and their supply chains, the shifts in the economy, and also other issues are contributing to a slew of problems: "Survey committee members reported that their…


Go to the news source: Inflation Galore at Manufactures, amid Massive Shifts in Demand, Supply-Chain Sn…