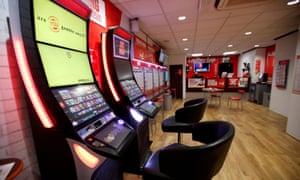 Fresh from fighting off a takeover bid, the owner of betting firms Ladbrokes and Coral has become the first major listed British gambling group to appoint a female CEO.
Entain named non-executive director Jette Nygaard-Andersen as its top boss this morning, two days after MGM Resorts – its US partner – abandoned its £8bn takeover approach.
Nygaard-Andersen has been an independent non-executive director of Entain since 2019. The company says:



As a Board member Jette has been instrumental in the development of Entain's growth and sustainability strategy.

Jette has more than 20 years' experience in leadership and operational roles in media, entertainment, sport and digital businesses and an extensive track record of working with fast-growing digital next generation online and mobile entertainment companies offering video gaming, e-Sports, and social media video content.
Entain also reported strong online betting growth, making up for the impact of traditional bookmakers being closed during the pandemic. Online net gaming revenue surged 41% in the final quarter of 2020, while retail sales in the UK fell 38%.
US joint venture BetMGM grew its revenues by 130% in the last year, as it profited from the state-by-state rollout of sports betting in the US, after the Supreme Court struck down a federal law that bars it in 2018.
Updated

Pound at 8-month high against euro on UK economy hopes
Optimism over the UK's vaccine rollout also appears to be lifting the pound.
Sterling just hit €1.132 for the first time since last May, adding to its recent gains, amid hopes of an economic recovery this year as the Covid-19 pandemic eases.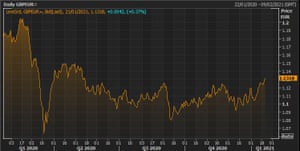 Lee McDarby, managing director of U.K. International Payments at moneycorp, says the prospect of stability under president Biden could boost riskier assets:



With Biden likely to focus on getting a handle on the Covid-19 pandemic, a large stimulus package and repairing US relations with larger countries in the short term, we would expect to see a period of stability for investors. This may see them feeling more comfortable to move money out of the US dollar to riskier assets, thereby weakening the dollar.

In the UK, the fast vaccination rollout currently underway could provide a much needed lift to the UK economy, spurring a surge in the pound. When it comes to the US dollar, many forecasters are predicting a large sell off should the vaccine be successful. This move to risk on would open the door to safe haven selling.
The Financial Times agrees that hopes of a UK economic recovery are lifting the pound.



Sterling has steadily gained ground since reports of significant progress in trade talks between Brussels and the UK at the end of last…


Go to the news source: Pound rallies as US stimulus hopes drive markets higher – business live | Busine…