Good morning, and welcome to our rolling coverage of the world economy, the financial markets, the eurozone and business.
The reflation trade is one of the key drivers of the markets right now, as investors bet that stimulus packages and a post-lockdown boom will drive prices higher.
And the latest figures show that inflation across the UK rose in December.
The UK consumer prices index rose by 0.6% in the year to December, up from 0.3% in November, the Office for National Statistics reports.
Transport costs picked up during the month — as restrictions on travel were briefly lifted over the Christmas period (before the latest lockdown was brought in).
Clothing prices were also higher, along with recreation activities (such are possible during a pandemic, anyway).
The ONS says:



Rising transport costs contributed 0.11 percentage points to the monthly change, while increasing prices for clothing, and recreation and culture items both contributed 0.10 percentage points to help increase inflation; these were partially offset by a downward contribution from falling food and non-alcoholic beverage prices.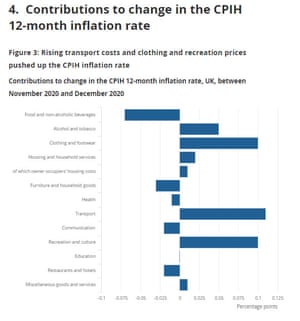 Air fares rose by more than usual during November and December, the ONS reports, with fuel prices also picking up –prices at petrol pumps rose by 1.5 pence per litre last month.
Women's and men's clothing prices also rose, as the Black Friday discounts ended.
Technology prices were also higher than usual, the ONS adds:



The largest upward contribution [in the recreation and culture grouping] came from data processing equipment, where prices for computer software, PC peripherals and laptops were overall largely unchanged between November and December 2020, but fell between the same two months in 2019.
Food prices fell by 0.4% during December, though, bringing some help to households suffering from the impact of the Covid-19 lockdown.
Inflation is still below the Bank of England's 2% target, but this move could be a signal that prices are going to keep pushing higher in 2021, as the Covid-19 lockdown eases.
We also get eurozone inflation figures later this morning, plus the latest UK house prices and US mortgage figures.
Investors will also be watching Joe Biden be sworn in as America's 46th president, and assessing his…


Go to the news source: UK inflation rises to 0.6%; London average house price exceeds £500,000 – busine…