WASHINGTON (AP) — With the House set to impeach, President Donald Trump is blaming Democratic congressional foes for "tremendous anger" in the country and last week's deadly attack on the Capitol by his supporters after he urged them on their way.
The embattled president, in his first remarks to reporters since last week's attack, took no responsibility Tuesday for the deadly mob invasion of the building but also said he wanted "no violence."
Trump defended his fiery rally remarks to a protest crowd last week as "totally appropriate," and he showed no remorse for the following attack, the most serious and deadly domestic incursion at the Capitol in the nation's history.
On impeachment, Trump said it's "a really terrible thing that they're doing."
"To continue on this path, I think it's causing tremendous danger to our country, and it's causing tremendous anger," he said. "I want no violence.
The president spoke as he left for Texas to survey the border wall with Mexico. He took no questions.
Impeachment ahead, the House on Tuesday will first try to convince the vice president and Cabinet to act even more quickly to remove Trump from office, warning he is a threat to democracy in the remaining days of his presidency.
House lawmakers are reconvening at the Capitol for the first time since the deadly pro-Trump riot to approve a resolution calling on Vice President Mike Pence to invoke the 25th Amendment to declare the president unable to serve. Pence is not expected to take any such action. The House would next move swiftly to impeach Trump.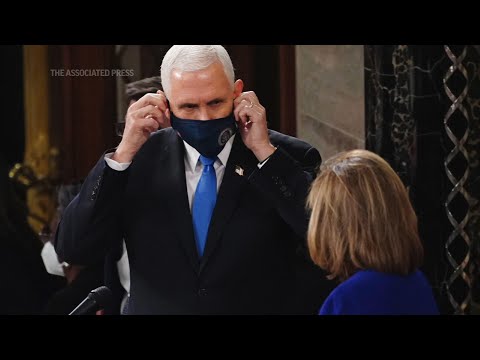 Trump faces a single charge — "incitement of insurrection" — in the impeachment resolution that the House will begin debating Wednesday, a week before Democrat Joe Biden is set to be inaugurated, Jan. 20.
The unprecedented events, only the first U.S. president to be twice impeached, are unfolding in a nation bracing for more unrest. The FBI has warned ominously of potential armed protests in Washington and many states by Trump loyalists ahead of Biden's inauguration. In a dark foreshadowing, the Washington Monument was closed to the public and the inauguration ceremony on the west steps of the Capitol will be off limits to the public.
It all added up to stunning final moments for Trump's presidency as Democrats and a growing number of Republicans declare he is unfit for office and could do more damage after inciting a mob that violently ransacked the U.S. Capitol last Wednesday.
A Capitol police officer died from injuries suffered in the riot, and police shot a woman during the violence. Three others died in what authorities said were medical emergencies.
"We have to be very tough and very strong right now in defending the Constitution and democracy," said Rep. Jamie Raskin, D-Md., an author of both pieces of legislation, in an interview.
Late Monday, the entire Congressional Hispanic Caucus, all 34 members, unanimously agreed to support impeachment,…


Go to the news source: Trump says 'tremendous anger' in nation over impeachment