US Federal Maritime Commission investigates container carriers' "abandonment" of American agricultural industry. Weirdest Economy Ever.
The freight rates from Asia to the US West Coast and East Coast, and to Europe, have exploded since the stimulus economy kicked in, where consumers shifted spending from services – such as airline tickets, haircuts, and even rents under the eviction bans – to goods, powered by money from the stimulus and from refinancing their mortgages at lower rates.
The average spot rate that container carriers charge for shipping containers from Shanghai to the US East Coast shot to a new record of $4,874 per 20-foot-equivalent unit, or TEU, a standard measuring unit in the shipping industry. The average spot rate from Shanghai to the US West Coast, after hitting a record of $3,948 per TEU in the prior week, dipped a smidgen to $3,900 last week, according to the Shanghai Containerized Freight Index (SCFI). For all 13 major global routes that the SCFI tracks, the overall index as of December 18 rose to a record reading of 2,412, up roughly 165% from a year ago.
These distortions have created a global chain reaction that includes a shortage of empty containers in the US that has hammered farmers that grow crops for exports, but have trouble finding enough containers to ship their crops. The resulting uproar has caused the US Federal Maritime Commission to investigate container carriers, amid allegations they are violating the US Shipping Act of 1984 (chart via Shanghai Shipping Exchange):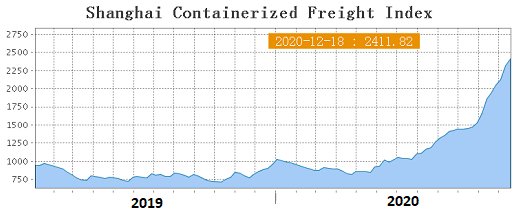 At the same time, freight rates for shipping containers from the US West Coast to North Asia are languishing at $600 per 40-foot equivalent unit (FEU), according to Platts Container Rates. And that is part of the calculus that container carriers undertake in deciding what to do with the empty containers.
The US Federal Maritime Commission (FMC) has initiated an investigation of ocean container carriers, amid allegations that they are sending empty containers directly from US ports to Asian ports to profit from the juicy east-bound freight rates, rather than making the empty containers available to US agricultural exporters, thus shutting US farmers out of their global markets.
The FMC said in a press release on November 20 that it would "investigate ocean carriers operating in alliances and calling the Port of Long Beach, the Port of Los Angeles, or the Port of New York and New Jersey" in order "to determine if the policies and practices of those shipping companies related to detention and demurrage, container return, and container availability for U.S. export cargoes violate 46 U.S.C. 41102(c)."
"The Commission is concerned that certain practices of ocean carriers and their marine terminals may be amplifying the negative effect of bottlenecks at these ports and may be contrary to provisions in the Shipping Act of 1984," the FMC said.
"The potentially…


Go to the news source: Holy-Cow Spikes in China-US Container Freight Rates & US Consumer Spending on Go…