US traders—from pros to hobbyists – often have different goals when speculating on the markets. Below, we explore the three trading types and what IG can offer them.
The fast-paced world of scalping; the leisurely marathon of position trading; the technical prowess of algorithmic trading. When engaging in the financial markets, there is a style that matches most personality types. And, in a year of geopolitical turbulence and high volatility, potential opportunities can arise.
Faced with choppy charts and the financial potential they imply; Dabblers, Hobbyists and Pro traders alike will have their own strategies in mind. But what are the characteristics of these very different trader types, and what do the differences between them mean for their approach to the market? We discuss these very different trader types below.
The dabbler trader
The Dabbler trader is often the type who has read the success stories that trading conversations disproportionally contain, and wants a piece of the action – while being somewhat ambivalent about the commitment level required. Although some dabblers may be fairly well informed on the technical and fundamental factors that can move markets, others may underestimate the degree of preparation necessary.
The inexperience of dabblers in the market can contrast markedly with more seasoned traders. For example, while an asset's sudden price plunge may prompt a Dabbler to go short, a Pro may see the bigger picture – perhaps as an example, price being set to test a key support level, raising the chance of a bullish reversal.
To this end, the collective Dabblers' efforts may affect the way price plays out in a way Pros look to exploit. In our above example, an array of Dabblers may push price to lower lows, while Pros simply wait for their efforts to result in oversold conditions against which they look to buy.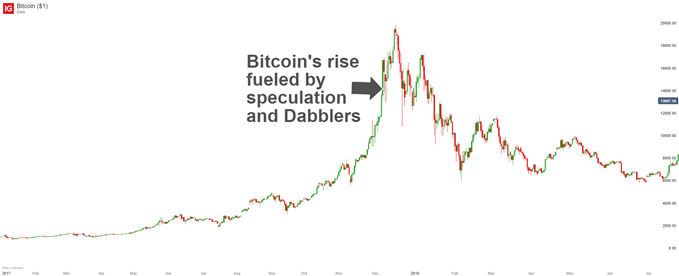 Overall, dabbling implies a lack of application, and Dabbler traders may indeed be the type who are looking for 'quick fixes' rather than sustained effort. Dabbling as a trader can be particularly risky when pairing a lack of knowledge with a higher average frequency. Therefore, using a risk-free demo account such as the one provided by IG, where traders can build experience, experiment with various strategies, and understand why a setup went wrong – without taking a painful hit to the wallet – is a useful first step into 'live' trading. Open an IG demo account today.
The hobbyist trader
The Hobbyist trader keeps one eye on the market, but isn't watching the charts all day long. As a less active trader than the Pro on a day-to-day basis, the Hobbyist may be best suited to 'swing trading', for which positions are held from a few hours to a few weeks; algorithmic trading, which uses computer programs to place trades according to defined rules; or even longer-term position trading, where positions can be held for months or even years. Consequently, the…


Go to the news source: Three Trading Types and How They Influence the Market