Good morning, and welcome to our rolling coverage of the world economy, the financial markets, the eurozone and business.
Britain's jobs crisis has worsened, as companies continue to lay people off as the Covid-19 pandemic hits the economy.
Figures just released by the Office for National Statistics show that the UK unemployment rate rose to 4.9% in the three months to October, up from 4.8% a month earlier.
Although that's a smaller rise than economists expected, it's still 1.2 percentage points higher than a year earlier and 0.7 percentage points higher than the previous quarter.
The ONS says:



August to October 2020 estimates show a large increase in the unemployment rate and a record number of redundancies, while the employment rate continues to fall.
The ONS reports that around 1.69 million people were unemployed in the August-October period, an increase of 241,000 on the previous quarter — and 411,000 more than a year ago.
Today's labour market report also shows that there were 32.52 million people aged 16 years and over in employment during the quarter — 280,000 fewer than a year earlier.
This was the largest annual decrease since January to March 2010.
Employment decreased by 144,000 on the quarter, the ONS says, adding:



This quarterly decrease was mainly driven by men in employment, the self-employed and part-time workers, but was partly offset by an increase in full-time employees.
The number of people being made redundant has also hit a new record high, reaching 370,000 in the August-October quarter.
That's a record increase compared to the previous three months, although the pace of layoffs did slow in October: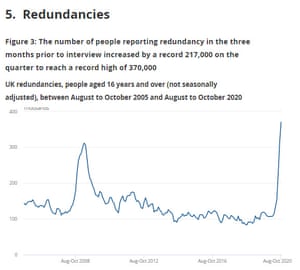 In another sign of the impact of the pandemic, the ONS reports that the number of people on company payrolls has fallen by 819,000 since February.
The figures come a day after the House of Lords economic affairs committee warned that the UK "sleepwalking into an unemployment crisis", and that urgent action was needed to repair the welfare system, create new jobs and help train people learn new skills.
More details and reaction to follow…


Go to the news source: UK redundancies hit record high as Covid-19 pushes unemployment up – business li…