No Wonder the Cry Babies on Wall Street are clamoring for more. Five SPVs, already on ice, will expire on December 31.
The Fed released details today of its corporate-bond purchases in November ($215 minuscule millions) and corporate-bond ETF purchases in November (zilch). Last time it bought any ETFs had been on July 23. It released details about its other activities in its Special Purpose Vehicles (SPVs), which are essentially on ice. Five of them will expire on December 31, including the SPV that handles the corporate bond purchases.
The Fed unwound its "repo" positions in early July down to zero, and more recently most its "central bank liquidity swaps." Its purchases of residential mortgage-backed securities (MBS) have been in a holding pattern since mid-September. What it is still buying at a steady clip are Treasury securities, thereby monetizing part of the debt the government is adding monthly to its gigantic pile.
The net effect is that its total assets have edged up just 1.0% since June 24, with a dip in the middle, after exploding higher in the prior three months. This is the Fed's tool to bail out asset holders during each crisis, and enrich them when there is no crisis:
There is now clamoring among the crybabies on Wall Street that the Fed should increase its asset purchases, and they're pressuring the Fed to announce a big increase at the next meeting, because, I mean, how else are markets going to keep on going up?
In terms of 2020: Total assets on the Fed's balance sheet for the week ended December 9 rose by $20 billion from the prior week to $7.243 trillion, but were down a smidgen from the peak on November 18, having gone essentially nowhere over the past five months: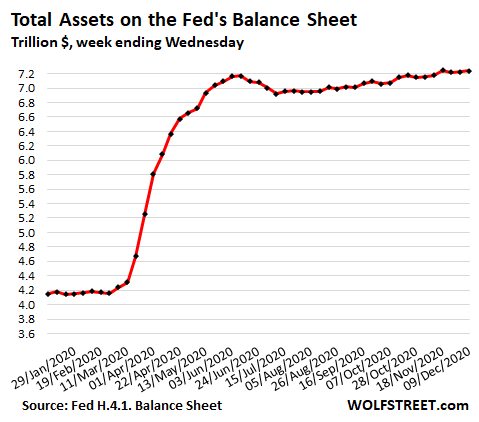 Repurchase Agreements (Repos) remained at near-zero:
The Fed is still offering to buy repos but at a higher interest rate that is unattractive to the market. Since early July, there have been essentially no takers, except for a few tiny transactions every now and then.
Repurchase agreements, as the name implies, are in-and-out transactions. The Fed buys Treasury securities or MBS from a counterparty with an agreement to reverse the transaction on a specific date. The most common repos are "overnight repos" that mature the next day, which is when the Fed gets its money back, and the counter party gets its securities back. Repos are not cumulative; they're in-and-out transactions as part of the agreement.
The repo market is huge, with $2 trillion to $4 trillion in repos traded each day, and the Fed, even back when it was in it with both feet, was dwarfed by the rest of the daily volume.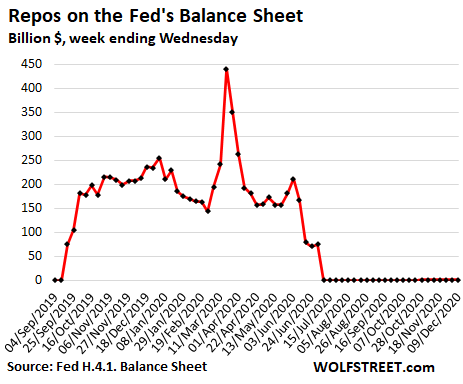 Central-bank liquidity-swaps fade, but look at the Swiss National Bank.
The Fed's "central bank liquidity swaps" by which it provided dollars to a select group of other central banks, fell out of use and are down to just $9.6 billion, a tiny sliver of the Fed's $7.2 trillion balance sheet, and down…


Go to the news source: Update on the Fed's QE