– Market sell-off linked to U.S.-China tensions weigh on GBP
– PM says will lay out path to lockdown exit
– Month-end flows a major driver of GBP gains
– First monthly gain for GBP in 2020
Above: Boris Johnson Digital Covid-19 Presser 30/04. The Prime Minister Boris Johnson chairs the daily Covid-19 Digital press conference inside No10 Downing Street with Chief Scientific Adviser, Sir Patrick Vallance and Chief Medical Officer, Professor Chris Whitty. Picture by Andrew Parsons / No 10 Downing Street

– Spot GBP/EUR rate at time of writing: 1.1439
– Bank transfer rates (indicative): 1.1139-1.1220
– FX specialist rates (indicative): 1.1200-1.1330 More information

– Spot GBP/USD rate at time of writing: 1.2548
– Bank transfer rates (indicative): 1.2209-1.2297
– FX specialist rates (indicative): 1.2280-1.2435 More information
Pound Sterling shot higher right across the board on April 30 amidst a sizeable month-end flow that clearly turned out to be supportive of the UK currency which combined with domestic news that a roadmap out of lockdown would soon be announced, but the gains have ultimately been reversed at the start of the new month courtesy of a dramatic decline in global investor sentiment.
Markets were falling and commodity prices in retreat on May 01, with analysts saying a brewing confrontation between China and the U.S. is behind the negativity, after U.S. President Donald Trumpsaid he had received evidence that covid-19 originated from a lab in Wuhan, China.
Trump said he has a "high degree of confidence" that the coronavirus emanated from the Wuhan Institute of Virology. "We're looking at exactly where it came from, who it came from, how it happened."
Trump said evidence corroborating his statements will be released in the near future, and should it be credible we could see some notable geopolitical shifts as Western nations recast their relationship with China.
This matters for the Pound as it remains reactive to broader market trends ever since the covid-19 crisis took hold of market sentiment; we have seen Sterling tending to outperform the Euro and Dollar when markets are rising, but falling when stocks are being sold.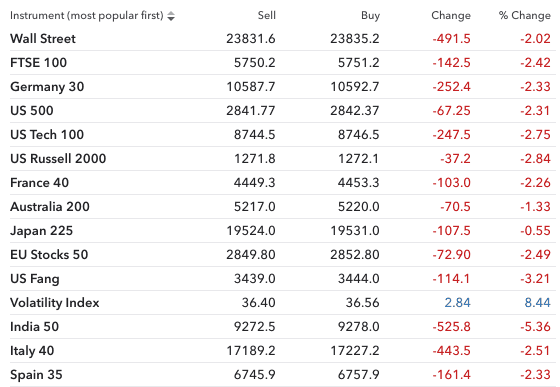 Above: Markets are a sea of red on May 01. Image courtesy of IG.
A risk-off flavour to the start of the new month is therefore ensuring Sterling reverses the gains it recorded on April 30: the Pound-to-Euro exchange rate had gone as high as 1.1531 in the past 24 hours but has since reversed back to 1.1438. The Pound-to-Dollar exchange rate went as high as 1.2637, but has since faded back to 1.2541.
Media report Trump is considering an executive order to prevent an initial $50bn of government retirement savings funds flowing into China due to his growing belief a Chinese institution was responsible for the covid-19 outbreak.
Part of the U.S. government's retirement savings are held in the Thrift Savings Plan, which is now obliged to transfer $50bn into Chinese capital markets as per an increased in…


Go to the news source: British Pound Volatile, Sees Month-End Leap Erased by May Day Market Sell-Off